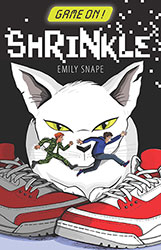 Gaming-mad Max and his prankster brother are forced to work together to survive epic adventures on a miniscule scale in this ripping new story for reluctant readers.
Rebellious Liam starts playing 'Shrinkle' on his babysitter's phone, the app shrinks Liam and his brother Max to the size of a minifigure! Their safe home has suddenly become a treacherous landscape. Can they scale sofa mountain, escape Miss McBoob's snoring mouth and outsmart the now-giant pet cat? And will they stay tiny forever?
Great illustrations draw the reader into the game.
Good for sibling relationships, self belief and forgiveness.
Categories: English, The Arts, Digital Technologies
Reading Age: 8 to 12 years 
RRP: Paperback NZ$16.99
Published by EK Books