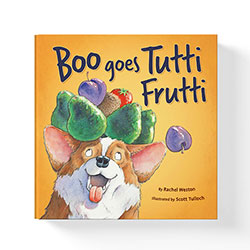 A picture book for pre-schoolers and new entrants. High on the bench a bowl caught Boo's eye.
Jump! Thump! Bump!
What did Boo spy?
You'll laugh out loud when you discover what sends this pint-sized pooch into a tailspin … They're fruity! They're delicious! They're fruitalicious!
Home alone and hungry, Boo spies something that tempts his tastebuds, but will he like them?
Kiwifruit! Plums! Avocados! The McQueen sisters' pristine house quickly loses its sparkle and sheen!
This bouncy page turner will have children guessing what type of fruit Boo gets his teeth into next. With a catchy rhythm and rhyme, this delightful book will have everyone joining in.
Scott's Tulloch's bright and humorous illustrations pop off the page brining Boo and characters to life. Boo goes Tutti Frutti is a joy to read and is sure to leave readers and listeners wanting more.
Reading Age: 3 to 6 years
RRP: Picture book paperback NZ$19.99
Published by Weston Books