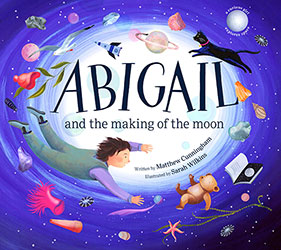 Abigail always thinks of big questions! Join her on a discovery mission to find out where the Moon came from, and how it stays in the sky.
A book for every budding astrophysicist – join curious Abigail as she discovers how the Moon came to orbit the Earth.
One clear day, Abigail thinks of a question and knows that she won't be able to do anything else if she doesn't have an answer to it.
"Daddy," she asked, "where did the Moon come from?"
"From the Earth, Abigail," replied Daddy. "The Moon was once a part of the Earth."
"It was?" Abigail asked. "But how did it get in the sky? And how does it stay in the sky? And why do we only ever see one side of the Moon?"
What follows is an evocatively simple story within a story explaining how the newborn Earth collided with another planet, and how gravity acts like invisible hands reaching out and keeping the Moon spinning around the Earth, the Earth spinning around the Sun, and the Sun spinning around the galaxy. And of course by dinner time, Abigail has thought of a new big question…
Categories: Activity books & early learning and young readers non-fiction
Reading age: 3 to 7 years
RRP: Paperback picture book NZ$21.00
Imprint Puffin – Published by Penguin Random House New Zealand