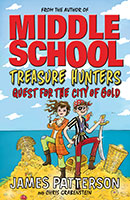 Gear up for an exciting new adventure with the thrill-seeking Kidds as they search for a missing city in South America made entirely of gold!
The Kidd family discovers an ancient map to the lost Incan City of Paititi. But when the map is stolen, the Kidds have to rely on Storm's picture-perfect memory to navigate the dangerous Amazon jungle – until she's kidnapped! To save Storm, the Kidds must locate the fabled city … before the bad guys find it first. The race is on!
Reading age: 8 to 12 years.
RRP: NZ$19.99
Publisher: Penguin Random House New Zealand.