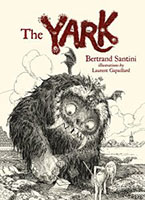 A very funny and cheerfully subversive chapter book about a monster who eats children – until one day he makes a friend.
Comments by TSTNZ's reviewer
If ever there was a thrilling horror story with humour for children 7 to 10 years this is it! Teachers if you want to keep slow readers attention use this book; kids love the macabre, especially if delivered with a happy ending!
Reading age: 7 to 10 years
RRP: Hardcover NZ$19.99