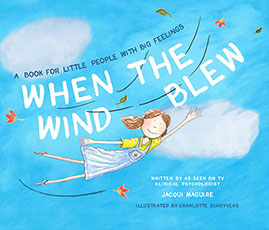 A book for little people with big feelings.
Written by "As Seen on TV" Clinical Psychologist Jacqui Maguire and illustrated by Charlotte Schryvers
One ordinary Wednesday night, as Orla was dreaming, a storm arrived that caused the world to turn upside down and inside out.
Follow Órla's journey and help your children learn how to harness their inner superpowers to navigate the emotional rollercoaster of unexpected change. Grown-Ups might learn a thing to two as well!
Reading Age: 4 to 8 years
RRP: Picture book paperback NZ$24.95
Published in NZ by Jacqui Maguire