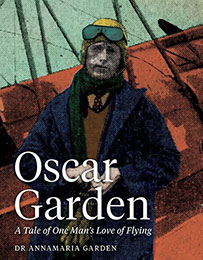 A Tale of One Man's Love of Flying
This biography describes pioneer and innovator Oscar Garden's fascinating flying career. It is a personal look at his optimistic determined and brave nature and his admirable adventures.
In 1930, after a chance remark that he should learn to fly Oscar Garden purchased a Gypsy Moth from Selfridges in London. He named it Kia Ora and embarked on a dream to fly from England to Australia and was the fifth person to navigate this journey solo and the youngest to carry out the feat.
He flew to many places in the World and while based in London, he joined British Airways and Imperial Airways flying, flying-boats across the British Empire. Finally he settled in Auckland NZ, after delivering the Awarua the second of NZ's flying-boats used during WW2 for communication and travel.
Amongst many other achievements described in this book this lone adventurer then became Chief Pilot of TEAL, the New Zealand airline, for half of the war years and beyond.
Part biography and part story , this is a fascinating tale of a man who made an outstanding contribution to aviation and the success of TEAL during the flying-boat era.
Reading Age: 13 years to adult
RRP: Coffee Table Style Hardback NZ$45.00
Published by Mary Egan Publishing