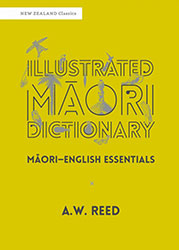 In compiling this dictionary A.W. Reed set out to entertain as well as educate. Its succinct entries encompass modern and traditional Māori language and customs, as do the fine illustrations by Roger Hart.
These Māori to English definitions delve into a variety of associated meanings and derivations — providing interest for either beginning or more advanced speakers of te reo.
The new Illustrated Māori Dictionary preserves the retro feel of the 1965 original — including its early adoption of macrons to mark long vowels, and indication of transliterated words. The text has been updated to reflect modern scholarship and language use.
Not only a handy reference work, this corrected facsimile edition represents a classic of Kiwi publishing.
Reading Age: 10 years to adult
RRP: Paperback NZ$34.99
Published in NZ by Oratia Books