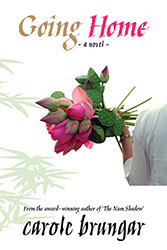 You don't choose a time and place to fall in love. Fate always chooses for you.
Ronnie is out of her comfort Zone. American pilot, Joseph Hunter Jr, is on his second tour of duty.
Can Ronnie and Joe navigate the constant dangers of living and working in a war zone?
Going Home takes us back to the sixties, to a propaganda-fuelled war, a determined enemy and a fragile hope of survival. A book you stay awake reading unable to put it down as it takes you on an increasingly exciting roller coaster ride right to the end.
Reading Age: Adult
Available in paperback in all good bookstores. Also available on Amazon and Kindle.
Published by Carole Brungar Books New Zealand