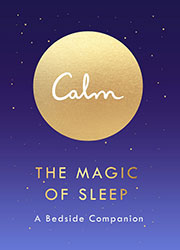 Re-introducing for these trying times a complete guide to sleep – its science, history, mysteries, and remedies from all around the world – and how to do it better.
We have spent decades optimising our waking hours, but what about the precious hours after we doze off (or try to)?
As the most active time for our brains and the most important element to a calmer, happier life, sleep has become the topic of our times. Drawing on the success of Calm, the #1 app for meditation and mindfulness, Michael Acton Smith writes the ultimate handbook for healthy sleeping.
Packed with fascinating facts and stories, and life-changing tips and recipes, this book will tell you everything you ever needed to know about sleep but were too tired to ask. At once a bedside companion and a sleeping aide, The Magic of Sleep will be your solution to a better sleeping life, improving each of your waking hours.
– Reduce your sleepless nights by finding the perfect soundtrack for dozing off
– Learn the new science of sleep, including how to create ideas while you're asleep
– Get to know your own mind by starting a sleep journal and exploring lucid dreaming
– Discover tried and tested natural sleep remedies such as French fried lettuce and Japanese sea slug eating
Reading Age: 16 years to adult
RRP: Paperback NZ$28.00
Published by Penguin Random House New Zealand