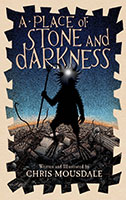 A pacy, suspense-filled story, with quirky creatures and characters and a fully realized dystopian world.
At last a fantasy novel with some depth . . . One of the best of the year' – Bob's Book Blog 'This is one of my top reads of 2019' – Goodreads, School Librarians
The amazing, mysterious realm of Striggworld can finally be revealed.
When the human creatures appeared, they ravaged the forests and hunted many birds to extinction. The flightless Striggs had only one option:
They went down, down under the ground . . . And it's there, as you may have heard it whispered, that they still remain. Far below, in a place of stone and darkness . . .
Over thousands of years, they colonised a labyrinth of tunnels and caves, but even underground the Striggs are not safe: chemicals now pollute their water and a deadly sickness threatens the flock.
Even worse: an inquisitive young Strigg called Ellee Meddo discovers a human boy, trapped deep in a well. Humans are to be feared and saving him could mean travelling to the surface, a place of untold peril. What will Ellee decide to do?
Are you brave enough to follow Ellee into the darkness?
Reading Age: 9 to 14 years
RRP: Hardcover NZ$30.00
A Puffin book published in NZ by Penguin Random House.