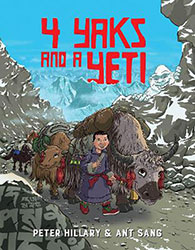 Set in the mighty Himalayas, this stunningly illustrated picture book is dedicated to "conviviality and kindness and the wonder of surprise".
Peter Hillary is a philanthropist and the author of six previous books, including one other children's book. He has visited the Himalayas over 80 times, including climbing Mt Everest twice. Peter's father Sir Edmund Hillary was the first man to climb Mt Everest in 1953 with his climbing partner Tenzing Norgay.
Ant Sang is an award-winning cartoonist and illustrator. He is the author of graphic novels The Dharma Punks, Shaolin Burning, and co-author of Helen and the Go-Go Ninjas. His work has also featured on television in the animated series bro'Town.
Reading Age: 3 to 6 years

RRP: Hardback Picturebook format NZ$29.99
Published in NZ by Bateman Books