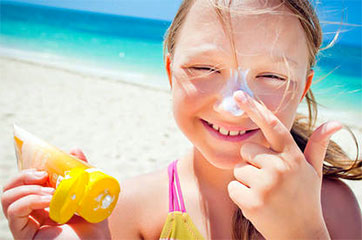 Consumer NZ's latest test of sunscreens highlights New Zealand's situation of classifying sunscreens as cosmetics is not protecting consumers and needs to change.
Consumer NZ chief executive Sue Chetwin says out of the 19 products tested, only nine sunscreens met their SPF label claim and the requirements for broad-spectrum protection.
"As a result of our test two 'natural' sunscreens, which only provided low protection, and a third product, which didn't meet its high protection or broad spectrum claims, have been removed from sale," Chetwin says.
Consumer NZ's test also found six other products, including some big brands, that didn't meet the SPF claimed on the label. However, Chetwin says most of the affected companies were able to produce lab results showing the products had been tested and met their label claims.
The exceptions were the Cancer Society and Sungard. Consumer NZ's testing of the Cancer Society Everyday SPF50+ and Sungard Moisturising Sunscreen SPF50+ found they had an SPF of 40 and 45, respectively. The sunscreens still provide high protection but not the very high protection indicated by the SPF50+ label claim.
This isn't the first time Consumer NZ has found differences between its test results and the manufacturers'. Consumer organisations in Australia, the US and the UK have also reported similar findings.
"Companies don't have to regularly test their products to ensure they still meet SPF claims, even if an ingredient supply changes, and some companies may go for years without re-testing. Our testing has also highlighted the lack of consistency between labs even when products are tested the same way," Chetwin says.
Another concern is that sunscreens can be sold in New Zealand without being tested because the sunscreen standard is voluntary. In a country with one of the highest skin cancer rates in the world, it's time the government made the Australia and New Zealand standard mandatory, Chetwin says.
 Consumer NZ has also announced this year's recipients of the Bad Taste Food Awards.
The awards were launched to highlight food companies marketing their products as healthier choices than they really are.
Chetwin says many of the products nominated for this year's awards are full of sugar, yet carried claims designed to make them appeal to health-conscious consumers, such as "no artificial sweeteners", "natural" or "fat-free".
"But it's not just sugar that's the issue. Food marketers have a variety of tricks up their sleeves to make us think their products are better choices. Our aim is to highlight these claims."
The recipients of this year's Bad Taste Food Awards are:
Pump flavoured waters: The Pump range of flavoured waters boast they're "low in sugar" but each bottle contains more than four teaspoons of sugar.
Pams Toasted Muesli and Countdown's Toasted Muesli: The sugar content of these toasted mueslis has increased a whopping 44 and 20 per cent respectively since Consumer NZ's 2012 investigation.
Anchor Protein+: Anchor Protein+ dairy products claim their higher levels of protein give "Kiwis the strength to tackle whatever life throws their way". But the truth is most of us are consuming more than enough protein.
Nice & Natural Fruit Snacks and Mother Earth Vege Fruit Sticks: These snacks both claim to have "no artificial colours or flavours" but what they do contain is high levels of sugar, in various guises.
Oki-Doki Marshy-Mallows and Betta Mallow Bakes: Both these brands label their marshmallows as "fat-free". It's a move straight from the food marketer's handbook of dodgy tactics: both products are more than 50 per cent sugar.
Lipton's Ice Tea: The label on the bottle of Lipton's Peach Flavour Ice Tea states: "No preservatives, no artificial colours, no artificial sweeteners" but this liquid gold contains 26g of sugar. That's more than six teaspoons in each 500ml serve.
Sanitarium's Up&Go breakfast drinks: Up&Go drinks claim to offer "slow release energy" and "10 essential vitamins and minerals". However, if you drank an entire 500ml bottle, you'll have consumed between nine and 10 teaspoons of sugar.
Gourmet salts: Some manufacturers are keen to advertise their salt as containing iron, calcium or magnesium. But these claims should be taken with a grain of salt as these minerals are only present in trace amounts.
Chetwin says although laws are designed to prevent companies misleading consumers about the goods they sell, food manufacturers continue to push the boundaries.