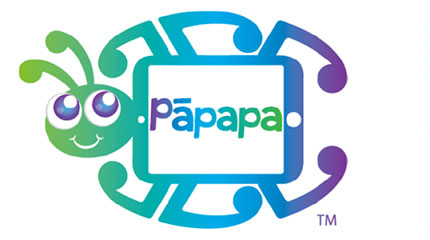 Pāpapa, a new line of Māori language apps for children five years and under focusing on vocabulary acquisition has been launched.
James Porter (Te Atiawa, Ngāpuhi, Ngāti Kahu), one of the developers behind Pāpapa, hopes it will support a larger number of families nationwide and abroad to start using the Māori language.
"Many New Zealand families here and overseas want to learn some te reo Māori especially for use with their young children, but don't have any knowledge themselves and are unsure where to begin," Porter says.
Porter is a computer programmer and father of two, aged six and two. "I assumed there would be lots of resources in the form of mobile apps, but on investigation found that the majority currently available are for older children already fluent in te reo Māori, as opposed to absolute beginners or younger children.
"What is needed are introductory-­level resources providing a fun way for kids and their caregivers -­ be it their parents, grandparents, other family members or people like their teachers -­ to learn together, focusing on basic vocabulary they can share about the everyday world around them. This is what Pāpapa hopes to provide."
Although an official language of New Zealand, the last Census revealed only 3.7% of New Zealanders can have an everyday conversation in the Māori language, including only 23.1% of Māori, and that our national proportion of Māori language speakers has been in decline since 2001.
With as many as one in every seven Māori living overseas in countries like Australia, access to Māori cultural resources by families abroad is also an issue. Increased use of technologies has been heralded as one solution, but Porter has reservations.
"Mobile apps are popular and highly accessible, but we believe it must be utilised in a way that nurtures and supports the special relationship between children and their caregivers, where language lives and can thrive," he says.
The first released Pāpapa app "He aha tēnei? (What is this?)" is a free, drag-­and-­drop activity game introducing children and their caregivers to 20 everyday Māori words and how they are pronounced. Following this first free app, others will be available for purchase in the following months.
Porter, his partner Veronica Tawhai (Ngāti Porou, Ngāti Uepohatu) and fellow computer programmer Alan Nasario (Rarotonga, Rotuma) have worked the past two years developing Pāpapa.
For more information see:  www.papapa.co.nz