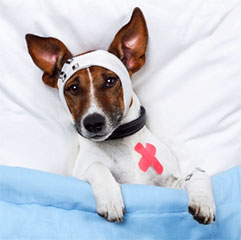 Sick and injured pets can cost a small fortune to treat with many owners shelling out more than $10,000 – here's a list of the 10 most expensive and common claims…
Any pet owner will attest to the fact that dogs will eat almost anything and cats make full use of their nine lives.
Southern Cross Pet Insurance's claims history is full of Labradors eating everything (including cockroach poison, electric hedge cutters, the entire contents of a chilly bin, a plastic bolt, seal carcass and more), and cats getting caught (and injured) in compromising positions (such as hot water cupboards, ranch sliders and garage doors).
While this won't surprise any pet owner, the cost of looking after a furry friend often does.
Research from Southern Cross Pet Insurance (SCPI) shows that a third of pet owners struggle to pay for vet bills, and over 50 per cent of owners said they could only afford to spend up to $1000 for a sick or injured pet.
"While often you'll hear about the strange and bizarre ways pets can get injured, the reality is that a lot of people are shocked at veterinary bills for relatively common treatments," SCPI head Anthony McPhail says.
"Things like skin conditions, which can be congenital, as well as bites, wounds and tendon problems can often cost much more than most pet owners would expect – and require more than one trip to the vet."
For these reasons, and the fact that you never know what strife your furry companion may get themselves into, Southern Cross has released the 10 highest and 10 most common claims for 2016.
Southern Cross Pet Insurance look after the lives of over 16,000 pets. In the 2016 financial year SCPI paid over 13,500 claims worth $4.57m.
During this period the 10 highest paid claims were:
| | | | |
| --- | --- | --- | --- |
| Dogs | | Cats | |
| Tumour | $9,975.00 | Fracture | $6,345.50 |
| Abscess | $9,543.61 | Traumatic injury | $5,648.64 |
| Pancreatitis | $9,358.35 | Renal (kidney) disorder | $5,000.00 |
| Spinal column disorder | $8,886.60 | Urethral obstruction | $4,921.98 |
| Cancer | $8,000.23 | Lymphoma | $4,624.60 |
| Traumatic injury | $7,265.23 | Mycobacterial infection | $3,734.36 |
| Intervertebral disc disease | $7,008.91 | Patellar luxation | $3,702.93 |
| Joint luxation | $6,938.41 | Tendon injury | $3,483.26 |
| Spinal degeneration | $6,309.56 | Polyradiculoneuropathy (immune and nervous system disorder) | $3,349.25 |
| Mass lesion | $6,263.14 | Cardiomyopathy | $3,193.86 |
The ten most common claims were:
| | |
| --- | --- |
| Dogs | Cats |
| Otitis (ear infection) | Cat bite abscess |
| Hypersensitivity (allergic) skin disorder | Wound |
| Lameness | Bite injury |
| Mass lesion | Conjunctivitis |
| Conjunctivitis | Traumatic injury |
| Arthritis | Vomiting |
| Anal Gland disorder | Lameness |
| Wound | Diarrhoea |
| Vomiting | Arthritis |
| Diarrhoea | Flea/tick/worm control |