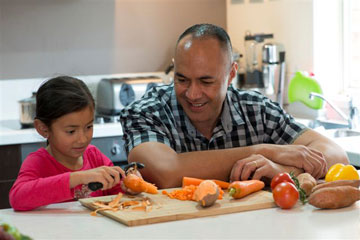 A change in routine can affect our eating and activity habits. For children, this can be the case over the school holidays.
With more time glued to the screen or sofa, some children will become less active, but it doesn't have to be that way.
Fuelled4life has tips, recipes and new resources to keep kids active and spark their interest in healthy food. Feel free to share these ideas with parents in your school newsletter or include in holiday programmes.
Remember, a break from school doesn't have to mean a break from a healthy lifestyle. Here are seven tips from the Fuelled4life team:
Put a healthy spin on celebrations
It's an exciting time of year with Christmas, the New Year and birthday parties. With so many special days to celebrate, 'treat' foods can take over the focus. For suggestions to make healthy eating and physical activity an integrated part of your special occasions, be sure to check out the Heart Foundation's Healthy Celebrations book.
Encourage helping hands with menu planning
Get kids involved in the planning of meals. For younger children, this may be writing the shopping list. For older children, it could be organising a meal plan within a budget.
Cook together
Browse the Fuelled4life recipe collection for fresh, summer inspiration. You will find a range of meal and snack ideas to suit different age groups, taste preferences and cooking abilities. Try our new seafood sapasui, eggplant 'chips' or this banana cauliflower smoothie (it may sound different, but tastes great!).
Explore the outdoors
Growing edible plants is a fun way of encouraging kids to taste and eat more fruit and vegetables. It also teaches them that providing care and nourishment for plants leads to optimal growth – just like our bodies. Keep an eye out for school or community gardens in your area.
Establish a routine
Early in the morning or after dinner can be a great time to keep family activity levels up, especially during the warmer summer months. Maybe sneaking "snackercise" into your day works better (light exercise that happens while doing other things). You can do this by parking as far away as possible from your destination, taking the stairs, or walking around a shopping mall.
Make the most of free low cost activities
A walk through the bush, around the neighbourhood or to the local playground (pack a

healthy picnic or packed lunch

too!)

Jump rope, fly a kite, use chalk to make hopscotch shapes or a handball court

Build an inside or outside fort

Wash the car

Go to the beach for a swim and sand sculpting, frisbee, beach cricket or beach tag 
Keep hydrated and sun smart
Remember to drink plenty of water and if you're outdoors – Slip, Slop, Slap and Wrap.
How can Fuelled4life help you?
Fuelled4life is based on the Ministry of Health's Food and Beverage Classification System (FBCS). It's a free and practical tool which helps schools to provide healthier foods. It aims to increase access to healthier food and beverages for young people. It also inspires food services to provide tasty and nutritious products.
Sign up to Fuelled4life
One in three Kiwi kids is overweight or obese but you can help change that.
If you are a teacher, principal, canteen manager, caterer, parent or caregiver and would like to see your school offering healthier food and beverages, here's what to do:
• Sign up to Fuelled4life for loads of free resources to help you choose healthier options.
• You'll also get free access to the Fuelled4life website and newsletter with tips, recipes, special deals and information on ways to improve nutrition in your school.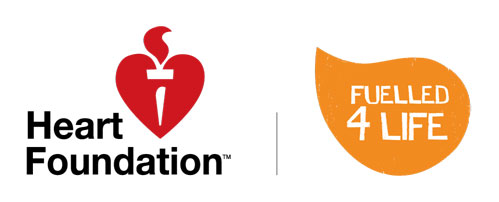 For more information or one-to-one nutrition support, please contact the Fuelled4life team on 09 526 8550, email fuelled4life@heartfoundation.org.nz or visit fuelled4life.org.nz