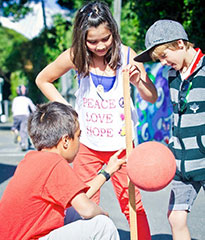 Beginning on Monday May 22, Bullying-Free NZ Week is a chance to raise awareness and promote a bullying-free environment at school.
The countdown has started to Bullying-Free NZ Week, which kicks off Monday, May 22, and ends with Pink Shirt Day, May 26.
Bullying is not a harmless rite of passage or an inevitable part of growing up. It's a complex and serious issue that disrupts school life, affects student health and wellbeing, and can contribute to a range of poor educational and life outcomes.
Every school will have to deal with bullying at some time.
Bullying-Free NZ Week is a chance to raise awareness and promote a bullying-free environment at school.
This year's theme is 'New Zealand students with solutions – working together to end bullying', acknowledging the importance of listening to students' voices and experiences, and the need for everyone – boards of trustees, school staff, students, whānau and communities – to provide safe, positive learning environments for children and young people.
Bullying-Free NZ Week is an initiative of the cross-sector Bullying Prevention Advisory Group, a collaboration of 18 organisations with representatives from the education, health, justice and social sectors, as well as internet safety and human rights advocacy groups.
There's a lot on offer. A free school activity pack is available, which includes a range of activities with a focus on bullying prevention to encourage students to tell their stories and talk about how safe they feel at school. There's also the Bullying-Free NZ Week competition where schools can enter the work of individuals, classes or the whole school community – what is bullying all about, what does it mean to students on a personal level, and how can students work with the adults around them to end bullying behaviour. Judged in two year groups, years 1–8 and years 9–13, the winner of each category receives $500 worth of technology or other resources of their choice.
The week ends with Pink Shirt Day – end on a high note with an event showing your school's commitment to a bullying-free environment.
Bullying-Free NZ Week is also a good opportunity to review your existing bullying prevention and response policies and plans. There are useful tools and templates on the Bullying-Free NZ website including staff activities to support joint planning and a whole-school approach, and useful factsheets for students and whānau.
The focus of Bullying-Free NZ is to provide practical resources school staff can use to implement, sustain, expand and modify their approaches to bullying prevention within a whole-school framework, and in response to the unique needs of their students' social and emotional learning.
The whole-school approach means moving beyond the traditional thinking of a teacher as responsible for bullying prevention lessons within the confines of the classroom, to identifying the school's unique issues and using collective action to respond to them.
It's not an issue schools can solve in isolation. Prevention requires a whole-school approach with everyone – students, staff, parents and whānau – sharing responsibility for making school a safe and inclusive place. It's also more effective.
A good starting point is a student survey to get a real picture of students' experiences and to hear their voices.
More than half of students who experience bullying do not report it to school staff – a student survey provides a robust snapshot of students' perceptions and a baseline from which to measure steps taken towards bullying prevention. Wellbeing@School (www.wellbeingatschool.org.nz) has resources that can help.
Make sure your school gets involved in this year's Bullying-Free NZ Week by running some of the fun and easy activities listed in the school activity pack. The pack and other information and resources are available on the Bullying Free website (www.bullyingfree.nz) or you can contact info@BullyingFree.nz.
It doesn't matter who or where you are, you can make a difference to someone's life by saying NO to bullying. Thank you for supporting a bullying-free New Zealand.
-Education Gazette